Make your live performance stand out
Brand your band by adding banners, backdrops, speaker grill cloth to your show. 
Mucho printing helps bands create high-quality, custom drum heads and stage graphics that produce a professional look, better recognition, and more gigs.
Services: Speaker Grill Cloth Covers, Custom Drum Heads, Stage Graphics & Banners.
Bass Drum covers are an easy solution to display your band name and logo on stage. Have your bass drum heads covered with your own graphic design. 
Size options:
Material: Lightweight removable fabric
Connect your audience to your music with your designs on a customized speaker grill banner. Add to your stage presence with visual power behind you by adding a custom grill amplifier Banner to your equipment.Your artwork, logo, graphics or photos are printed to a special speaker banner material, perforated with hundreds of holes that allows sound and air to pass through. 
There is no significant loss of volume or change in tone. This gives you and your amp a cool new look! The print is very bright and vivid on top of the acoustically transparent mesh. The mesh is coated with a PVC plastic for maximum strength and durability made for touring and gigging bands. 
Size options:
4X12 speaker *if other size please email muchoprinting@gmail.com
$50 per cab (installation optional if in LA area with an additional fee) 
Material: Acoustically transparent mesh is coated with a PVC plastic for maximum strength and durability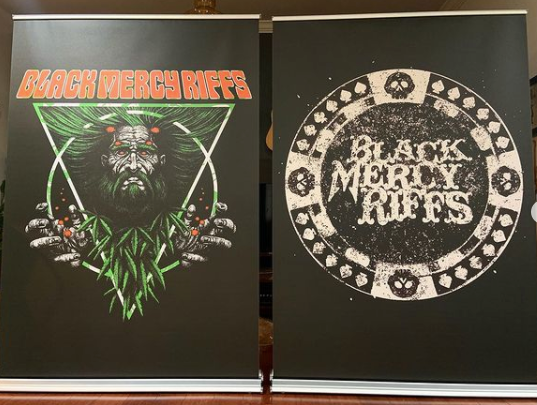 Before your audience hears your music, visually let them know who you are with custom printed banners and backdrops of your band name, logo, or album artwork.
Fabric Backdrops are portable for easy travel to any type of show. Stand out on stage or among event presenters. Custom backdrops also create a frame for great photos. Use the included travel bag to carry the backdrop to your event and store it between events. 
Hardware Stands are available to add to your printed fabric banner 
Material: 9 oz. Polyester Fabric 
Size options:
8x8 - $210 ($290 W/ Hardware) 
8x9 - $230 ($315 W/Hardware) 
8x10 - $260 ($340 W/Hardware) 
For custom size please email muchoprinting@gmail.com
Fabric banners are attractive, don't crease easily, and can be folded flat for easy transportation and storage between events. In addition, the less reflective surface is a better backdrop for your selfies and event photos. 
Features:
Maximum size 8' x 100' 
High resolution digitally printed at 720 x 720 
Dye sublimation 
Scratch resistant 
Washable 
Hemmed edges and grommets 
Material: 9 oz polyester fabric banner 

We use a premium heavyweight 13 oz. scrim vinyl banner. It has a very smooth surface for best printing results. This material is typically used for billboards, building wraps, banners, event flags, trade show signage, parades, etc. 
Features:
Single-Sided single piece maximum size 10' x 145' 
w/o pocket and 9.5' x 145' 
w/ pocketDouble-Sided banners maximum size 9.5' x 145' 
High resolution digitally printed at 720 x 720 
Digitally Printed Hemmed edges and grommets 
Material: 13 oz vinyl banner 
Finishing options (email muchoprinting@gmail.com to add on):  
Pole pockets 
Velcro 
Hemmed edges and grommets

Powered by AZEXO Shopify page builder